Intelligent Company Awards & Recognition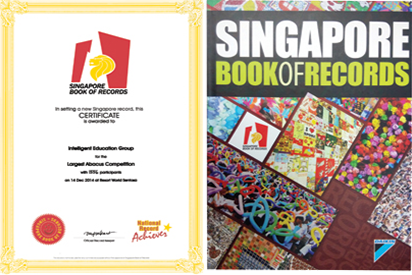 2014
Intelligent Education Group was awarded the Singapore book of records certificate for the largest abacus competition held at resorts world sentosa ➙ Singapore ➙ 1356 participants from twenty countries took part in the international competition 2014.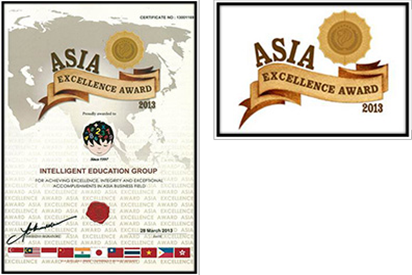 2013
Intelligent Education Group has been awarded the asia excellence award in march 2013 for achieving excellence, integrity and exceptional accomplishments in asia business field.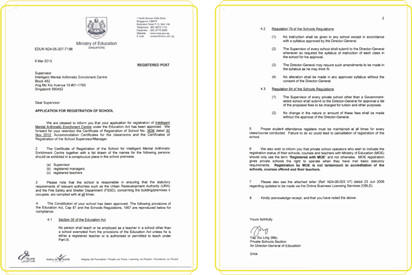 2012
The application for registration of Intelligent Mental–Arithmetic Programme under the education act has been approved by ministry of education singapore ➙ MOE. To be registered, centres need to meet basic statutory requirements and have an acceptable curriculum and qualified teachers.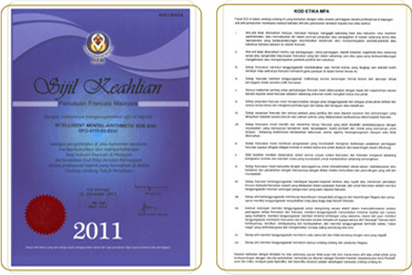 2011
Intelligent Mental–Arithmetic Sdn Bhd has been accredited by malaysia franchise association ➙ MFA which was formed in 1994 to support the implementation of the government program to promote entrepreneurship through franchising.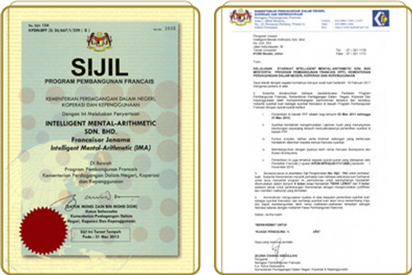 2010
Intelligent Mental–Arithmetic Programme has been awarded the certificate of franchise development programme from kementerian perdagangan dalam negeri, koperasi dan kepenggunaan ➙ KPDNKK for complying with the regulations.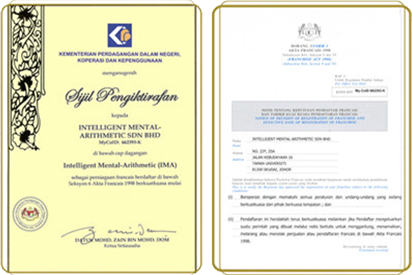 2009
We are officially sanctioned by the ministry of domestic trade co–operatives and consumerism ➙ MDTCC. It is also known as the kementerian perdagangan dalam negeri, koperasi dan kepenggunaan ➙ KPDNKK in Malaysia term.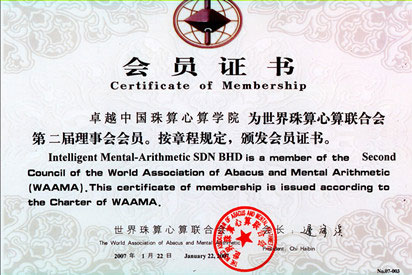 2007
Intelligent Mental–Arithmetic Sdn Bhd is a council member of the world association of abacus and Mental–Arithmetic ➙ WAAMA and the chinese zhusuan association in china. The certificate of membership has been issued according to the Charter of ➙ WAAMA.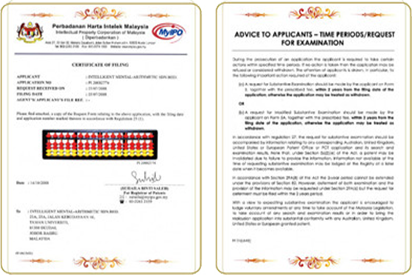 2005
The perbadanan harta intelek malaysia as well as the intellectual property corporation of malaysia ➙ MyIPO approves the registration of new era abacus as our patented teaching tool. Intelligent new era abacus industrial design and patent no ➙ PI 20082774 / UI20082774 grant no ➙ MY–147813–A.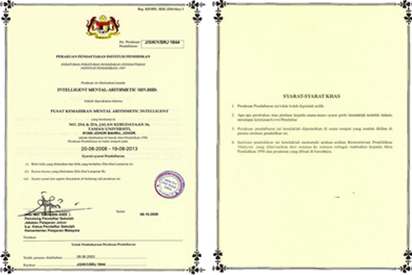 1993
We are a reliable company as Intelligent Mental–Arithmetic Sdn Bhd is registered under the perakuan pendaftaran institusi pendidikan or certificate of private educational institution perakuan pendaftaran ➙ J/3/K/1/SRJ1844 ministry of education malaysia.